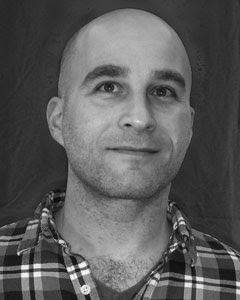 The preppy hombre
ferried the sunlight on his shoulder
but didn't speak to it
trotting through the wrestling
signatures of such and such
I have been his age
legible in the rorschach
insensible to the provenance
of flourish or giant
absence of giant Nightingale
with a tweed lid in a cedar
closet The dollar
vans are singing of home
on the Fulton Mall
The world has been resurrected
through its furnishings
I will have added
dogwoods leaning over the fence
with some foolishness and the sycamores
in the sky in their rapture
Ben Gantcher's recently completed manuscript of poems, Snow Farmer, was a finalist in the 2014 Omnidawn Open book contest. His first chapbook, Strings of Math and Custom, was published in 2013 by Beard of Bees Press. If a Lettuce, his first manuscript of poems, was a finalist in the National Poetry Series and Bright Hill Press contests. His poems have appeared in many journals, including Tin House, Slate, Guernica and The Brooklyn Rail. He is a 2014-15 fellow at LABA. He was nominated for a Pushcart Prize, a resident at Ucross and Omi, a correspondent with the Hyde Park Review of Books and a poetry editor of the online journal failbetter. He teaches math, Language Structures and an interdisciplinary writing and visual art studio course at Saint Ann's School in Brooklyn, NY, where he lives with his wife and three children.